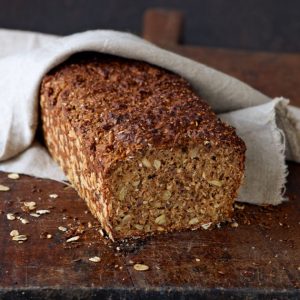 Experience the flavor and texture of Vollkornbrot like fresh from the German bakery! Dense, chewy, packed with nutrition and full of flavor, this German Vollkornbrot is wonderful with your choice of butter, jam, Nutella, cheese, or cold cuts. It features a grain called Einkorn that is used throughout much of western Europe, though you can substitute other grains as noted in the recipe.
Ingredients:
4 1/2 cups einkorn flour you can also use whole wheat, spelt, rye or combination
1/2 cup whole einkorn berries or wheat, spelt or rye berries
1 3/4 cups cracked einkorn berries or wheat, spelt, rye
1 cup whole flax seeds
1 1/2 cups sunflower seeds
1/4 cup sesame seeds
3 teaspoons salt
2 teaspoons dry active yeast
2 tablespoons sugar optional
2 cups lukewarm water
2 cups buttermilk at room temperature
1 cup mild beer at room temperature (can substitute water or buttermilk)
Rolled oats for sprinkling
Preparation:
Dissolve the yeast and sugar in the lukewarm water and let it sit for 5-10 minutes until frothy.
Combine all of the dry ingredients in the bowl of a stand mixer. You can do this by hand if you prefer
Then add the yeast mixture along with the buttermilk and beer. Attach the dough hook and knead on the bread setting for 10 minutes. Scoop the batter into a large non-reactive bowl, cover loosely with plastic wrap, and let it sit at room temperature for at least 4 hours or up to 24 hours (for heightened sourdough properties). Also the longer it ferments the more liquid will be absorbed so less chances of a moist center after baking.
Preheat the oven to 175 degrees C.
Scoop the batter (it will be thick and gooey but not like regular bread dough) into a generously buttered Pullman loaf pan and smooth the top to even it out. Sprinkle with oats.
Bake on the middle rack for 100-120 minutes or until the center is done. For best and most accurate results use an instant read thermometer and aim for about 100 degrees C. Let the bread sit in the pan for 5 minutes before removing it, then let it cool completely on a wire rack before slicing it.
Recipe credit https://goo.gl/4P7AtY.