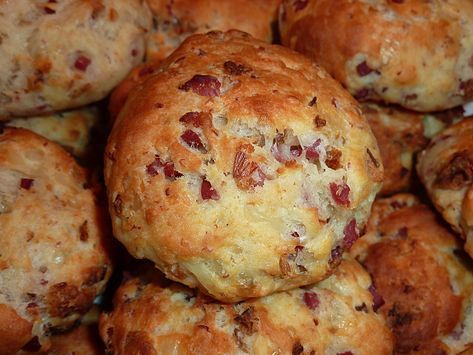 Indulge in the authentic flavors of Germany with our irresistible Räuberbrötchen recipe. These delectable pastry rolls are filled with a savory combination of meats, cheese, and aromatic herbs. Perfect for breakfast or as a tasty snack, discover how to make these mouthwatering treats and bring a touch of German tradition to your table. Try our Räuberbrötchen recipe today and embark on a culinary adventure!
Ingredients:
250 g Quark
1 tbsp sugar
1 tsp salt
8 tbsp milk
6 tbsp oil
300 g flour
1 pck. baking powder
100 g diced ham
100 g roasted onions
100 g cheese, grated
Preparation:
Mix together Quark, sugar, salt, milk, oil, flour and baking soda.

Knead ham cubes, fried onions and cheese into the dough.

Form the dough into a roll, cut into small pieces and form very small rolls.

Place the rolls on a baking tray lined with baking paper and bake at 180 degrees for about 20 minutes till golden brown.