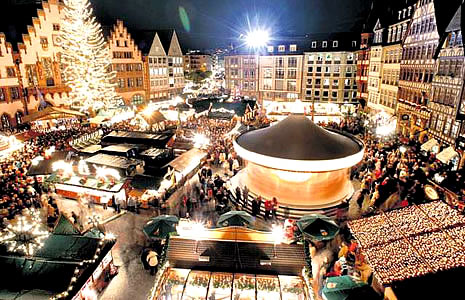 Christmas market in Frankfurt
No one does Christmas quite like Germany. Its festive holiday season kicks off at the end of November and runs up until the beginning of January, and includes traditional cookies and cakes like Lebkuchen and Pfeffernüsse sold in stores and markets, decorative trees and wreaths filling public spaces, and picturesque old towns given the fairy-tale treatment with twinkling lights and glowing candles placed in the windows of shops and residences. Early in December, the oldest and most famous market, Nuremberg's Christkindlesmarkt is opened. At least 375 years old, it is one of the oldest, and with over 200 vendors participating each year, it is also one of the largest Weihnachtsmärkte in Germany.
Christmas markets date back to at least the 14th century and were one of the many markets held throughout the year. It was here that people bought everything they needed for the Christmas celebration. When the Advent season opens, Christmas markets also crop up in nearly every German town, large or small.
Townspeople gather together, listen to brass band music, drink beer or hot mulled wine (Glühwein) or apple cider, and enjoy the hearty traditional fare of the region. Vendors peddle baked goods, including gingerbread hearts, sugar-roasted almonds, crepes, cookies, Stollen, cotton candy and other sweets.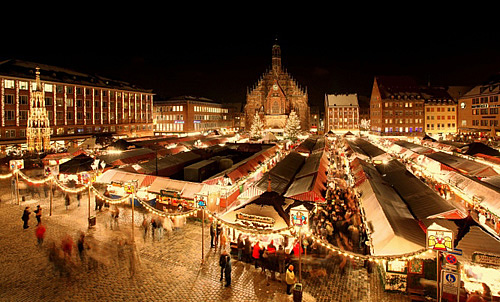 Nürnberg's Christkindlesmarkt
The most celebrated of all the markets is Nürnberg's Christkindlesmarkt on the Hauptmarkt. The Frauenkirche, overlooking the market has a glockenspiel, a bell clock on which wooden figures cavort several times a day.
The Christkindlesmarkt is the place to sample all the good things associated with Nürnberg. There is the celebrated lebkuchen a very rich honey spiced cookie. There are those little finger-length bratwurst. There is the tinsel angel with a wax face, and the edible prune man, made of nuts and dried fruit.
The Nürnberg event is Germany's biggest, but it has no more atmosphere than any one of hundreds of other markets, some of which are no doubt handier to you. Just about every big city and many smaller communities, especially those with reputations as tourist attractions, have Christmas markets.
Christmas tree decorations, seasonal items, and handcrafted articles, such as wooden toys and hand-blown glass ornaments, are also sold. The traditional German Christmas decorations are prune men or prune women (Quetschenmännchen) and straw stars. They are about 25cm tall. Their arms and legs are made out of prunes and their bodies are made of dried figs. The Germans say "You will never be without gold and happiness, if you have a prune person in your house."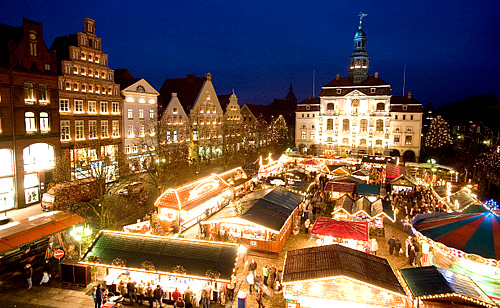 Lüneburg Christmas Market
The eyes of excited, cherry-cheeked children, bundled in winter clothes, light up at the sight of the treasures they see. Toys, Christmas tree ornaments and candy is piled high in the rows of wooden stands hung with evergreen boughs and lights. The kids ride on ponies or merry-go-rounds, visit puppet shows and have the awesome experience of meeting St. Nicholas.
The stands, which also feature handcrafted items, ceramics and wooden items, are no longer lighted by tallow candles and oil lamps, as they were in times gone by. But the soft glow of them still seems to hang in the air, especially when there is a blanket of snow. Entertainment, usually around 5 p.m., can include choral serenades or trombone recitals from a balcony overlooking the scene.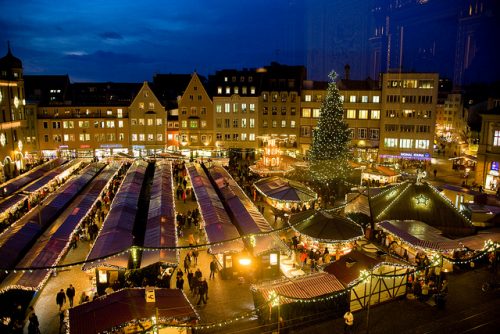 Christmas Market in Augsburg
Food and drink take account of the fact that these markets, contrary to all logic, are held outdoors in the middle of winter. It leans to roasted chestnuts, hot sausages and hot spiced wine. There is also a heated tent where you can get off your feet and have some food and drink. Bock beer is another specialty of the winter season.
Weekdays are the best time to visit the markets. But if only Saturdays or Sundays are available to you, at least try to get there early. The weekend crowds can be fierce. The booths also have the best selection when you get there early.
A word of caution: the big attraction of the market is the atmosphere. There are no bargains there. You'll pay just what you would pay elsewhere. And the selection is limited, so don't think you can do all of your Christmas shopping there.
Related Articles:
Nuremberg Christmas Market
Christmas traditions in Germany
Christmas Celebration in Germany
Christmas tree – Tannenbaum
Advent in Germany – Four Weeks Left till Christmas!
Christ Child – Christkind