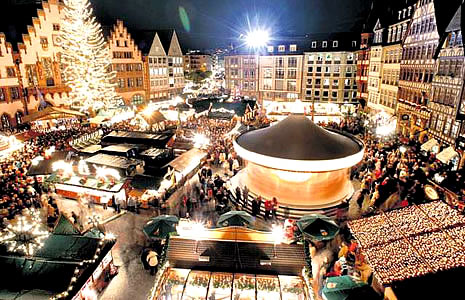 Christmas market in Frankfurt
Germany is famous for its Christmas Markets. Early in December, the oldest and most famous market, Nuremberg's Christkindlesmarkt is opened. At least 375 years old, it is one of the oldest, and with over 200 vendors participating each year, it is also one of the largest Weihnachtsmärkte in Germany.
Christmas markets date back to at least the 14th century and were one of the many markets held throughout the year. It was here that people bought everything they needed for the Christmas celebration. When the Advent season opens, Christmas markets also crop up in nearly every German town, large or small.
Townspeople gather together, listen to brass band music, drink beer or hot mulled wine (Glühwein) or apple cider, and enjoy the hearty traditional fare of the region. Vendors peddle baked goods, including gingerbread hearts, sugar-roasted almonds, crepes, cookies, Stollen, cotton candy and other sweets.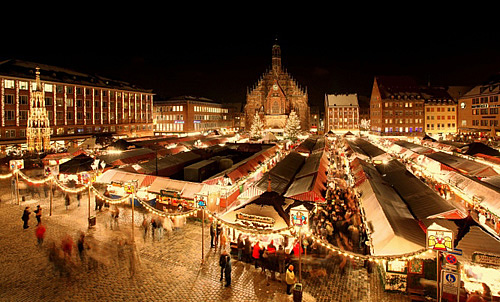 Nuremberg's Christkindlesmarkt
Christmas tree decorations, seasonal items, and handcrafted articles, such as wooden toys and hand-blown glass ornaments, are also sold. The traditional German Christmas decorations are prune men or prune women (Quetschenmännchen) and straw stars. They are about 25cm tall. Their arms and legs are made out of prunes and their bodies are made of dried figs. The Germans say "You will never be without gold and happiness, if you have a prune person in your house."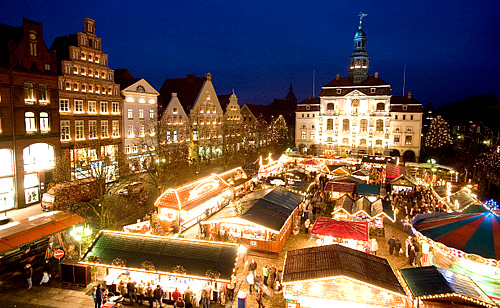 Lüneburg Christmas Market