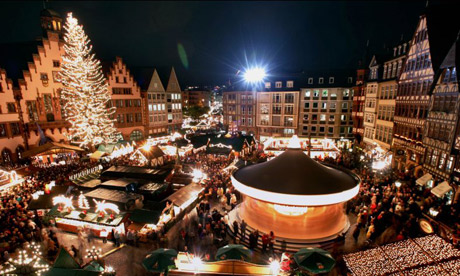 There is nothing so awe-inspiring in the pre-Christmas time as visiting Christkindlmarkt, the German Christmas market. Every town has its own little "Christkindlmarkt", which is a market-fest, where people gather to enjoy the Christmas time. These Christmas markets offer baked goods, sweets and toys and feature local and regional specialties. Larger cities like Frankfurt or Nuremberg have large Christmas markets, and attract many tourists, both local and foreign. They open before the first Sunday of Advent, around the time of Thanksgiving in the U.S., and usually continue until December 24th at 12 noon.
Nuremberg's Christkindlesmarkt (Christ Child Market) is the most famous and one of the oldest. The first official record of this pre-Christmas market dates to 1628. A list of notices for stallholders from 1737 shows that nearly all of Nuremberg's craftsmen were represented. Back then 140 persons were given the right to sell their wares. In 1998 there were 190 stalls with 200 stallholders.
1999 On the 950th anniversary of the city, the "Nuremberg Children's Christmas Market" and the "House of Stars" opened on Hans Sachs square for the first time.
The streets leading to the Christmas market are attractively decorated with white poles bearing Christmas symbols, garlands of fir and pretty lights. At the center of the market there is a crib, its wooden figures telling the Christmas story. Every visitor to the Christkindlesmarkt pauses to have a look at it.
The market stalls are decorated with branches of fir and lit by lanterns. Most sell Christmas decorations, gold-foil angels, little prune figures made of dried fruit and crepe paper – the famous "Zwetschgenmaennle", spicy Lebkuchen cakes and toys. The opening of the market is a very popular festivity. At dusk the Nuremberg "Christkind", who is newly elected every two years, recites a prologue from the balcony above the entrance to the Frauenkirche, accompagnied by festive music. Children sing carols in front of the church.
… Little booths are lined up, and sell everything from hand-made ornaments to musical clocks – playing slow, sad-sounding Christmas tunes. The crisp wintry air is filled with the aroma of Stollen (baked fruit bread), Bratwurst, roasted almonds, and Lebkuchen (gingerbread), a spicy cookie. Another favorite is Gluehwein, a red wine, which is heated up over fire and served in steaming cups. You can pay to keep the Gluehwein mug, and thus save the memory of the Christkindlesmarkt – German Christmas market.




Related Articles:
History of Advent Calendars in Germany
Cologne Christmas market
The Magic of the Munich Christmas Market
Nuremberg Christmas Market
Christmas Markets and Advent in Germany
Christmas traditions in Germany
Christmas Celebration in Germany
Christmas tree – Tannenbaum
Advent in Germany – Four Weeks Left till Christmas!
Christ Child – Christkind