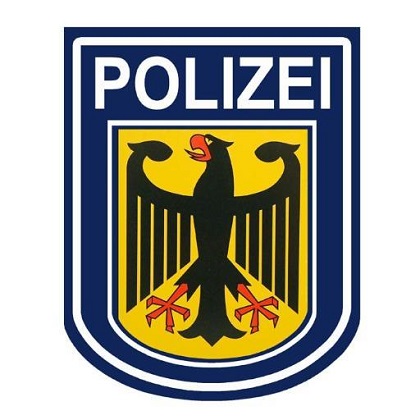 Law enforcement in Germany is conducted by federal, state and municipal law enforcement agencies. The Federal Police is a specialized force responsible for border protection, railway policing and aviation security.
The federal structure of the Federal Republic of Germany gives the 16 states (Länder) the authority to maintain their own police forces within their territory, along with the right to pass legislation and exercise police authority. At the same time, the Basic Law provides for federal authority in central areas of law enforcement. Due to this division of authority, Germany has 16 state police forces and two federal law enforcement agencies, one of which is the Federal Police.
The Federal Police carry out a wide variety of law enforcement tasks, in particular border protection, railway policing and aviation security, as assigned by Germany's Basic Law and federal law, including the Act on the Federal Police, the Residence Act, the Asylum Procedure Act, and the Act on Aviation Security.
With its approximately 40,000 staff, including more than 30,000 highly trained law enforcement officers, the Federal Police is an extremely effective police service which plays an important role in maintaining internal security in the Federal Republic of Germany and Europe.
The Bundeskriminalamt (BKA) – which acts as the INTERPOL National Central Bureau (NCB) for Germany – is Germany's central agency for police information and communication. It provides support to all Federal police forces and coordinates national crime suppression activities. It also serves as the German Criminal Investigations Department.
As part of the Ministry of Interior, the BKA is called upon by German Police forces – including Landespolizei –when criminal investigations take on an international dimension. Through its operations and coordination center, a 24-hour service center known as the "Kriminaldauerdienst", the BKA is able to take immediate action when investigations, searches and international communications require it.
With offices in Wiesbaden, Berlin and Meckenheim, the BKA employs more than 5,500 men and women. With their specialized knowledge and expertise in the fields of criminal sciences, information technology and administration, they cover a broad spectrum of activity. Approximately half of them are fully trained criminal police officers. The others come from more than 70 different occupational groups.
Related articles:
National Security in Germany
Prussia's Emergence as a Military Power
Creation of the Bundeswehr
The German Military in Two World Wars
Bundesheer
Bundesmarine
Luftwaffe
Military Justice in Germany
German Uniforms, Ranks, and Insignia
Foreign Military Relations
Internal Security
Land Police Agencies
Dissidence and Terrorist Activity
Federal Police Agencies